Bespoke picture frame mounting options
Once you've designed your image or collage for your bespoke frame, you can select your mount style at the checkout. All of our frame ranges are available with a single mount, double mount, thick mount or no mount option all available to select at the checkout. For a stunning modern illusion, our float mount option is also available on a limited range of our frames including our Appleton, Baroque and Classic Large mouldings. Simply choose from one of our mount templates in the online designer, arrange your images into the apertures and proceed to the checkout. Once on the ordering page, you'll have a selection of all the mount options available with your chosen frame, as well as any applicable mount or moulding colour choices.
No Mount
If you would like to frame an image from edge to edge with no mount, simply select "No Mount" in the designer and at the checkout. For every frame size we offer, there will be a template available in the online designer that displays your image at full bleed that you can drag and drop your chosen photograph into. This clearly displays the image in full view with no border, which you confirm at the checkout when selecting "No Mount" when ordering. This is a classic option to put your photography at the centre stage to be married seamlessly with the frame moulding.
Single Mount
Choose from our board selection of templates in our design software to find the perfect fit for your image. Whether it's a single image or a multi aperture design, you can select a "Single Mount" at the checkout and choose from our four colour options. Single mount's are precision cut to order from our premium acid-free 1400 micron board to display your images within the frame moulding. With a bevelled edge to reveal the boards inner core colour, this is a popular option to give any image or collage compilation a truly professional finish within your frame.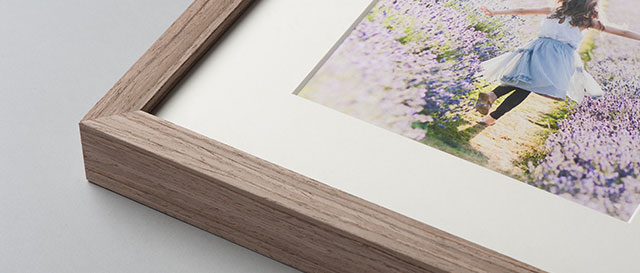 Double Mount
We offer a double mount option at the checkout, perfect for giving images extra depth and style. Choose from any of the templates with our design software and select "Double Mount" at the checkout. You can choose the same colour mount to be combined, or contrasting colours once at the checkout and select in which order you would like them assembled. The top mount is calculated to be 5mm narrower on each edge to create a layered effect, so you can design a matching ensemble or an edgier composition such as a bright white mount on top with a sharp black board underneath.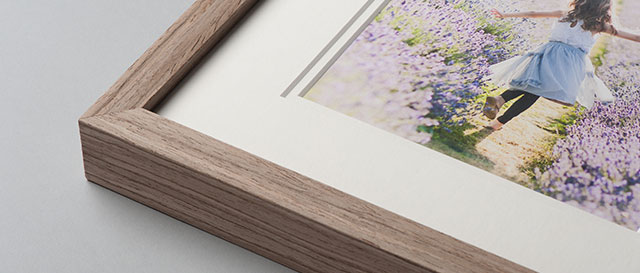 Thick White Mount
Our premium thick white mount boasts a luxurious 2600 microns, for a deep, luxurious finish to your images. Made with archival 100% acid-free board, this soft white mount is perfect for pairing with fine art giclée prints to produce a stunning display, guaranteed for a lifetime. Every edge is accurately cut as per your chosen template design with a beautiful bevel and flawless adjoining corners to frame your pictures perfectly. Our thick mount option is only available in one colour which is traditional off white, benefitting from with a warm ivory tone, ideal for soft skin contrasts.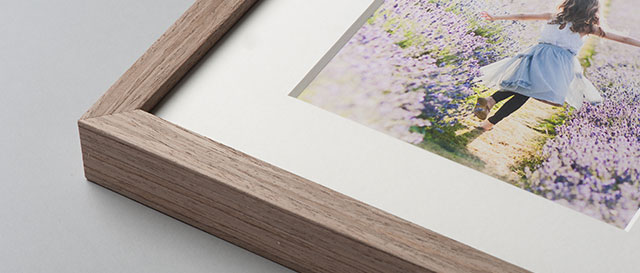 Float Mount
This sleek modern illusion puts your photography at the centre stage by raising your prints from the traditional white back panel while suspended away from the thick ultra-clear acrylic glass to create a unique floating effect. Available on a limited range of mouldings, float mounting is available with single images as well as multi image collage designs, all elevated from a traditional white mount board at the rear with a warm ivory tone to establish a subtle and stunning drop shadow. Simply design any of the templates within the online designer and select "Float Mount" at the checkout.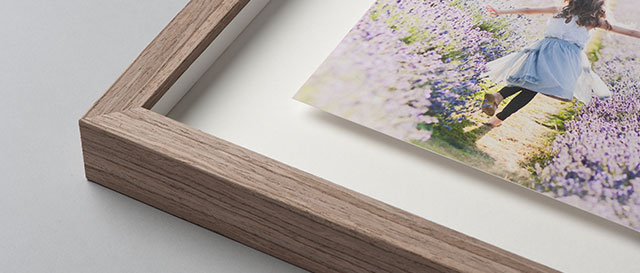 Colour choices for single & double mount options
You can choose from four colours for our single and double mount options to display your image within your photo frame. All of our options are made with completely acid free conservation mount board with a neutral PH so as to not damage your artwork over time. Each mount is precision cut with a bevelled edge to create a smooth transition to the image surface while revealing the mount board's inner core colour. Colour options for the single and double mounts include traditional white, black, cream and bright white, all with a smooth cotton surface texture.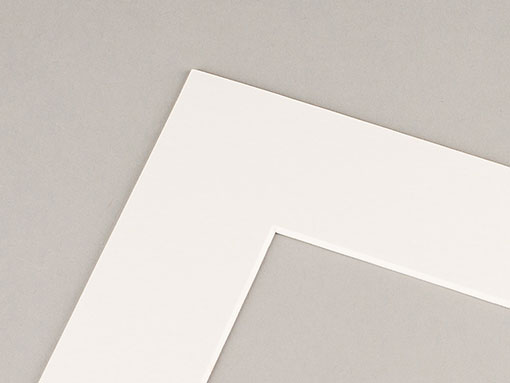 Traditional White Mount
Our most popular option and displayed in our roadshow samples, our standard white mount has a warm traditional tone for a soft surround of your photography. With an ivory hue and matching inner core, this mount is the perfect compliment for skin tones and soft background colours.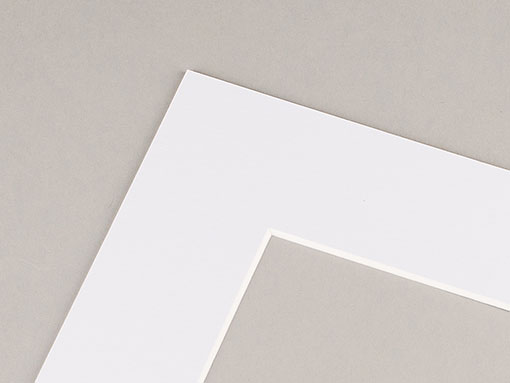 Bright White
Stark and achromatic, our bright white mount is a sharp actual white with no hues or warm tones. With a matching white inner core, bright white is an excellent choice for combining with a monochrome display, as the clinical white tone is more complimentary for black and white images.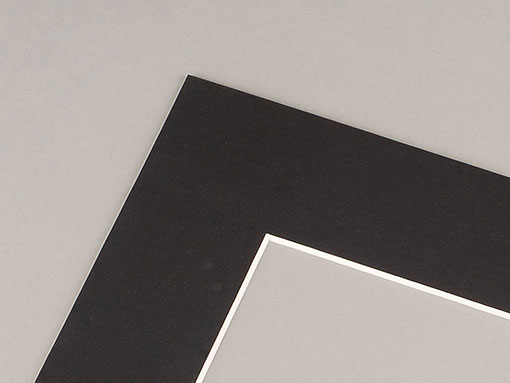 Black Mount
Our classic black mount is a premium grade board with a crisp white inner core, framing your images with a white keyline visible on the bevelled aperture edge. Perfect for monochrome images and for a modern twist on traditional framing, this is a popular option for portrait photographers.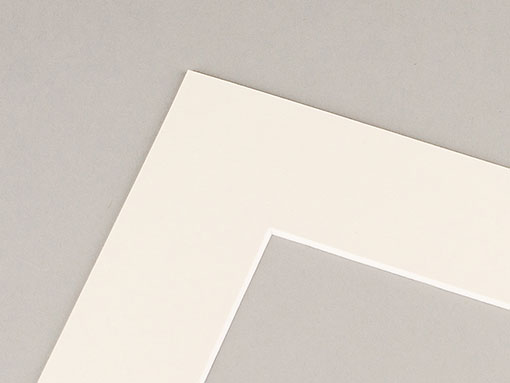 Cream Mount
Warm and pastel toned, our cream mount is perfect for conservational or traditional images. Give your image a calm and relaxing feel with this completely acid free board, cut with a bevelled edge to reveal the warm white core to perfectly encase every image for years to come.
Mount board samples for bespoke frames
We offer a sample pack of our coloured mounts so you can see the colours and board texture in person. Each sample pack contains a chevron of each coloured board, presented as an L shaped corner. Complete with a bevelled inside edge to reveal the inner core colour, these mount board samples are presented exactly as your bespoke mounted frame would appear.