Personalised Business Stationery
Personalised business stationery has the power to make your brand more visible and to help you engage with your clients. Find out more below.
Personalised business stationery
Personalised business stationery has the power to make your brand more visible and to help you engage with your clients leading to much stronger business relationships and more sales.

At SIM Imaging, our range of bespoke and customisable personalised business stationery includes a selection of high-quality, quickly-dispatched:

personalised greeting cards,
postcards,
business cards,
compliment slips,
custom photo books, and
personalised presentation folders.
In this article, we've taken the opportunity to introduce website visitors to some of our most popular products below. Why not explore our full range of personalised business stationery?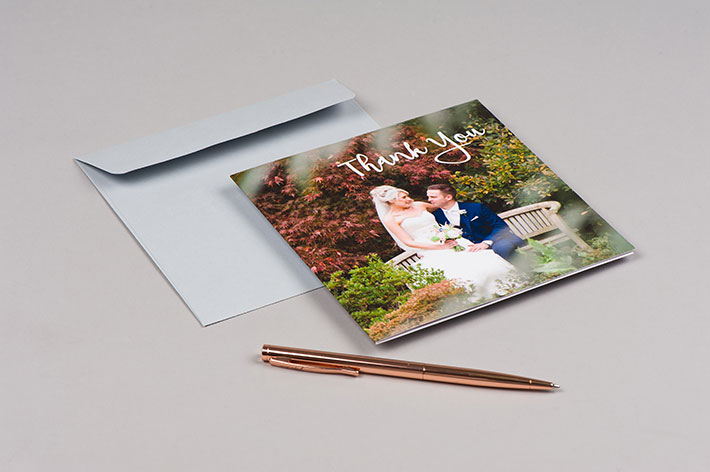 Personalised greeting cards
Designed with flexibility in mind, our personalised greeting cards offer your business a fantastic marketing opportunity by allowing you to add bespoke content to all four sides of the card, including text and photos in addition to your logo and branding.

Printed on five premium card stock options – including cotton, high gloss, matt laminated, pearlescent and fine art – our greeting cards are available in square, landscape or portrait format and come with a fresh white envelope as standard, with the option to upgrade to any of our 12 attractive coloured envelopes.

What's more – the minimum order amount for our personalised greeting cards is just 10 copies meaning that you can mix and match your designs if you have a larger client base.
Bespoke tri-fold leaflets
Aimed at professional photographers, one of our personalised business stationery favourites is our attractive tri-fold leaflets offer a stylish and unique marketing opportunity for you to showcase your work and promote your brand to clients and customers alike. Available in both tri-fold and quad-fold formats, our customisable leaflets offer plenty of space for you to work with – and, where your design is concerned, the possibilities are endless.

Lightweight and portable, our bespoke tri-fold and quad-fold leaflets effectively offer you a 'portfolio on the go' allowing you to add anything from photography and images to your professional biography, a list of your services & prices, contact details and reviews over six or eight perfectly folded panels.

Whether you decide to distribute your personalised leaflets at a networking event or gallery showcase or send them out to prospective clients in the post, make the perfect first impression by designing your very own, fully customisable, tri-fold or quad-fold business leaflet today.

Our personalised tri-fold leaflets are available in two handy sizes, while our larger quad-fold leaflets come in an attractive portrait orientation – perfect for showing off headshots and other forms of photography.

What's more, at Sim Imaging you're able to take your pic from a number of high-quality paper stocks – from our premium uncoated paper (which comes as standard) through to our luxurious high gloss, matt laminated, pearlescent, textured or fine art finishes.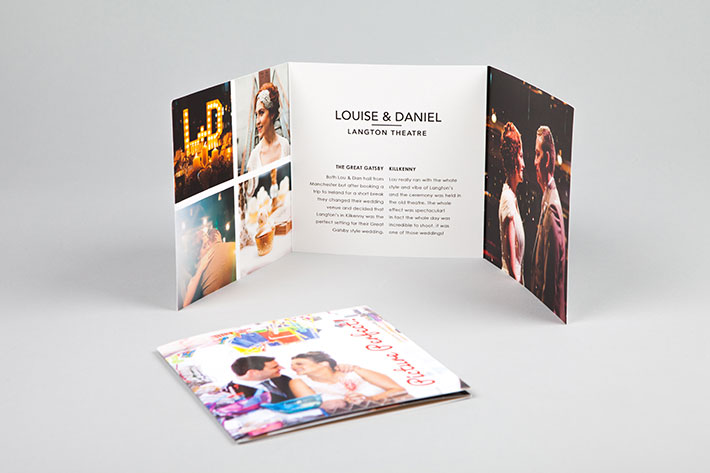 Find out more about our personalised business stationery
From bespoke, personalised greetings cards and attractive leaflets through to custom photo books, presentation folders and more, at Sim Imaging, we're renowned for our superior, eye-catching personalised business stationery.

So, if you want to speak with one of the team about our wide range of personalised business stationery or require any product samples, please get in touch with us for more information.

You can book an appointment to come and see us, or simply email or call us and we'll be happy to help. Contact us today on 01707 27 37 47 or email [email protected].