Wedding Photo Books
Our wedding photo books are made using only the highest quality materials. Explore our range by reading more about our wedding photo books below.
Wedding Photo Books
Capture the big day for yourself or your clients in style with our range of personalised, custom-printed wedding photo books. Our wedding photo books are made using high-quality materials and they are crafted with the love and care you'd expect from one of the UK's leading print and display companies. For professional wedding photographers looking to wow their clients with vibrant and impactful print products, then you should look no further.

To make life even easier, the majority of our wedding photo books can be designed quickly and easily online using our free downloadable Simware design software – enabling you to upload, edit, proof and custom-build the perfect wedding memento with the minimum of fuss. Or you can let us do the hard work for you… we offer a comprehensive design service exclusively for photographers so you can spend more time doing the things you love, like taking photographs! Just contact us about this and we'll be happy to help.

Explore our range of market-leading wedding photo books below:
Fine art photo books

Printed using high-end industrial inkjet printers, our fine art wedding photo books celebrate the day with deep and vibrant images which literally jump from the page.

One of our most popular wedding photo book options, these fine art photo books are available in a genuine leather or linen cover and they are beautifully finished off with a luxurious matt coat. These stunning books can also be completed with an embossed cover a laser-etched design of your choice.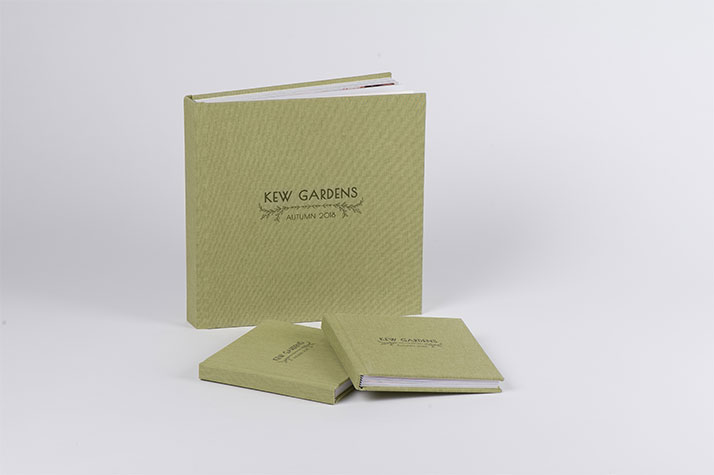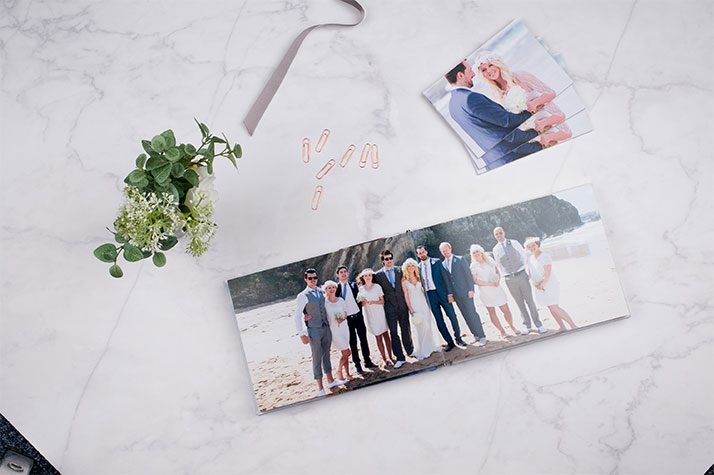 Coffee table photo books

With three paper types and two different cover options – including image wrap and luxury linen – to choose from, our coffee table wedding photo books make the perfect bespoke photo book for happy couples and for wedding photographers wanting to impress prospective clients.

What's more, our books come in a wide variety of sizes to perfectly match your or your clients' budget and design requirements.
Photo memory books

Featuring up to 20 pages and costing from just £75, our beautiful and cost-effective photo memory books are designed for small and intimate wedding shoots.

Choose from over 30 colours of linen for your cover and personalise it with a laser-etched design or you can select a full colour image cover finished off in a beautiful matt or gloss laminate.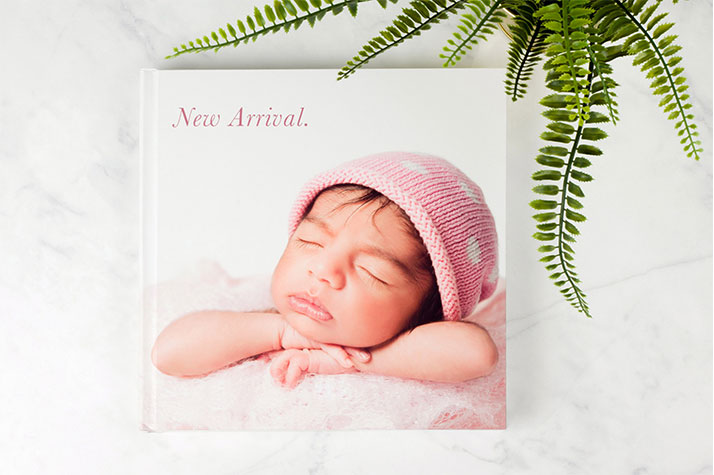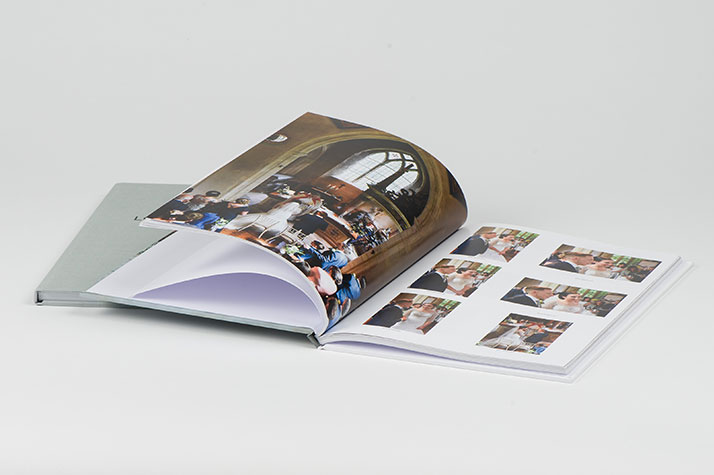 Photo proof books

Designed with happy couples and their professional wedding photographers in mind, our photo proof books allow up to 1,200 images to be showcased in a beautifully bound portfolio.

This handy form of wedding photo book can be made with a linen or image wrap cover and can be fully personalised during the online design process using our easy-to-use downloadable software.
Personalised wedding guest books

Make the big day even more memorable with a personalised wedding guest book allowing friends and family to leave messages that will last a lifetime.

Featuring a mix of blank and lined pages, these wedding photo books can be designed with a luxury linen or a full image wrap cover and they make the perfect gift for bride and grooms looking for a written memento of their special day.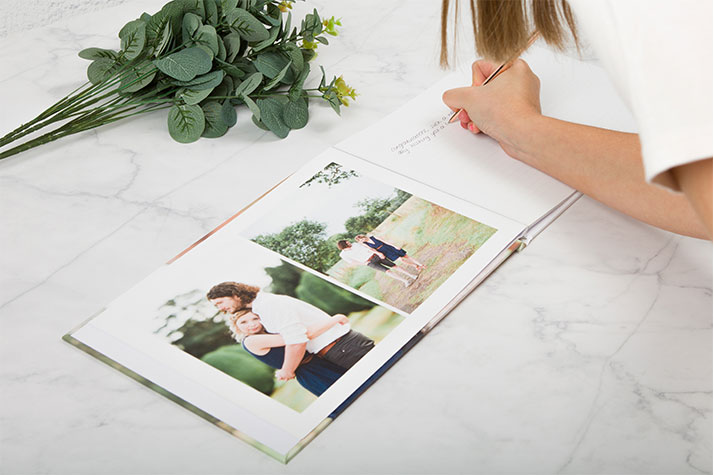 Linen photo book & USB box
Beautifully presented in a stunning linen box, our linen photo book and USB box offers a perfect combination of printed and digital photography for special occasions.

Our 20-page A5 photo books are available in 30 different linen colours with a personalised laser-etched design. What's more, these unique book and USB packages can also be ordered with a charming rustic wooden maple presentation box.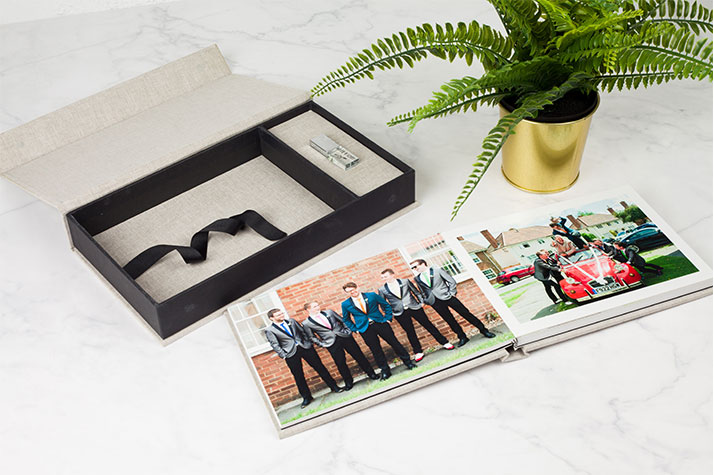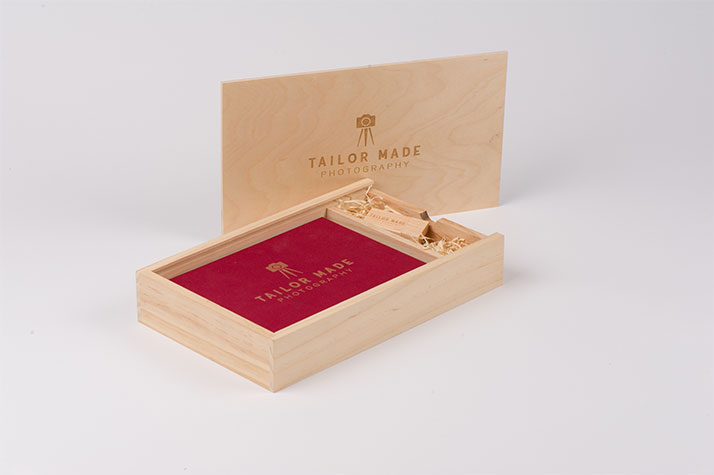 Find out more about our wedding photo books
If you want to speak with one of the team about our range of professional wedding photo books, please get in touch with us for more information. You can book an appointment to come and see us or speak to us over the phone – whichever suits you best.

Contact us today on 01707 27 37 47 or email [email protected].