Welcome to SIM Imaging
We specialise in beautifully handmade products specifically designed for professional photographers. From wedding photo albums to bespoke photo frames, to personalised presentation products and even customised USBs, we're certain we've got a product to fit every photography package. Every product is made to order by our expert team of craftspeople and our team is on hand to help or answer any questions you may have.

Our range of wedding photo albums are handmade here in the UK and also include the option to have smaller album duplicates for friends and family. Our photo books are ideal for weddings or other memorable occasions. We even offer proof books for photographers and wedding guest books too.

If you're looking for something a bit more digital then check out our extensive collection of USB sticks & boxes. To compliment your products we also offer photo presentation boxes, cases & folios and to help your professional photography business we provide a range of personalised business stationery.

We also provide professional photo framing to showcase your clients' valuable photography and imagery as well as a range of modern wall art. With an option to suit every taste from the stylish to the traditional, choose from 9 professional photo frame mouldings in a range of colours or take a look at our 12 different choices of custom photo wall art. We also offer modern acrylic photo blocks as a stunning desktop frame alternative.
Popular products for photographers
---
When presenting your work to your clients, you have to ensure the details are perfect on a product you love. We promise a speedy service, a keen eye for detail and excellent value for money. Check our top products below.
Our top selling products for professional photographers
Photo Albums & Photo Books
---
Our professional wedding photo albums and photo books range provides a great choice and flexibility of options. You will find your perfect product for your professional photography packages. Look at a selection below.
Luxury Wedding Photo Albums & Photo Books for Professional Photographers
USB Sticks & Presentation Products
---
Our collection of USB sticks & boxes are fantastic for digital photography packages for photographers. Alongside this, we offer photo presentation boxes and cases to create extra uniqueness for your clients. Look at some of the options below.
USB Sticks & Boxes and Photo Presentation
Photo Framing & Photo Wall Art
---
We provide professional photo framing with a collection of 9 different photo frames for all your client's needs. Alternatively, our range of 12 styles of custom photo wall art offers something different from traditional frames. Look at the selection below to begin your order online.
Professional Photo Framing & Custom Photo Wall Art
Why Choose SIM for Your Photography Business
Since we began back in 2004, Sim Imaging has fast become the number one choice in the UK for professional photographers looking for luxury photo albums and photo books. Our fantastic reviews speak for themselves as you can see below. Read our other top reasons for why photographers come back to us, time and time again.
Experienced Team
We provide you with first-class, made to order printed products you are proud to present to your client.
Handmade
All photo products are handmade to order in the UK by our highly skilled team of master bookbinders.
Fast Service
Our quick timescales mean that products are dispatched to you within 10 working days or less.
Satisfied Customers
We have hundreds of happy customers and our Trustpilot reviews from hundreds of customers rate us as "Excellent".
Free Software Download
USB products can be created instantly online via our in-browser software, and our free downloadable Sim Ware desktop software offers flexibility & templates for designing photo albums and more.
Customer Support
We pride ourselves on our professional, friendly customer service. Our intimate customer support team enables us to build great, continuous relationships with our customers.
Secure Online Ordering
Our safe and secure website uses SSL (Secure Socket Layer) encryption which means your personal data will stay personal. A padlock symbol appears in your browser to indicate that you are on a secure server.
Sustainable Sources
We're keen on protecting the planet and as a result, all of our materials are sustainably sourced which is a driving force for our products.
Free Software Download
Our free downloadable Simware software allows you to have full control when designing your personalised photo products. Your personal copy of the Simware will be saved to your specific laptop or desktop without the need to be connected to the internet so you can work on the go when you need to.

With a simple drag and drop system, our Simware allows you to upload your images and drop them into a huge selection of pre made templates to visualise the final look of your album, photo book or other photographic product.

We've filled our Simware with heaps of useful tools and functions to make designing any product as quick and easy as possible.
Mac & Pc Compatible
1000's of Pre Designed Templates
Create & Save Your Own Templates
Easy Drag & Drop Functionality
Client PDF & JPEG Proofing
Secure Online payments & upload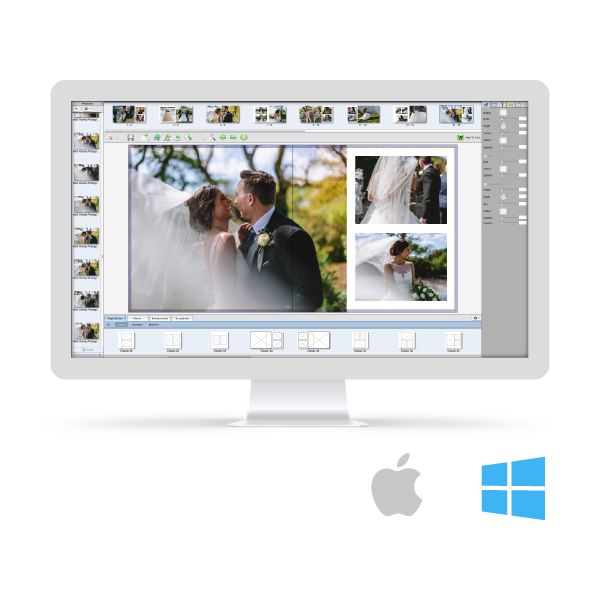 Customer Reviews of our Photo Products
Above all else here at Sim we pride ourselves on our excellent customer service. We understand the needs of our photographers and do our utmost to efficiently deliver top quality, handmade products time and time again. We are proud to be rated 5 stars 'Excellent' on Trustpilot and are trusted uk supplier amongst the photography community, many of whom have tried our products and have remained as loyal customers since our very beginning.

We don't want you to take our word for it. We are proud to offer incredible customer service at every turn and we love to hear from our photographers when they are pleased with our professional service. If you need any further assurance that we are the supplier for you, why not read some of our many positive reviews below.