Wooden Photo Blocks Overview
Our wooden photo blocks are a bold and popular way to present your photography or favourite images. Made with sturdy 20mm solid MDF custom cut panels, our dense wooden photo blocks really make an impact when hung on a wall. A striking statement piece perfect for any home, studio or workspace, our personalised wooden blocks allow you to present your images with a raw and minimalist feel, ideal for landscape and wildlife photography.

Our skilled technicians will professionally mount your favourite images printed on fine art Lustre paper onto the wooden block for fantastic edge-to-edge results. Your photograph will then be lifted by an even 20mm from your wall when in position. For a luxury finish, take a look at our framed wooden photo blocks for the ultimate professional display.
Round wooden photo blocks
We offer a range of shapes, sizes and orientation for your wooden photo blocks including portrait, landscape and square. For an alternative and modernistic finish, you can design our wooden photo blocks with a completely circular finish, making for a eye-catchingly different wall display to impress your clients. Our round wooden photo blocks lend a soft finish to your images, subtly transforming your wall art into an excellent talking piece, perfect for photography packages.
Print Quality
Our wooden photo blocks are made to the highest standard possible with superb fine art prints, hand finished and dry-mounted to the wooden block itself. We utilise market-leading Epson inkjet printers to make your favourite images come to life with vibrancy that will last. To give the block extra protection, we will then laminate the print with a satin-matt seal to protect your image for years to come.

Our fine art printing process ensures that your photograph is displayed in the highest quality, enhancing colours and lines for a vibrant final display. With the satin laminate coating it will create a beautiful sheen but also offers wipe-clean protection.
How to hang your wooden photo block
Wooden photo prints arrive with a routed keyhole cut out in the back for wall hanging. Each keyhole mount is individually precision routed, creating a sleek design and providing a practical way to display your high-quality photographs.

This means you can hang your masterpiece simply and effortlessly as soon as it arrives. The wooden photo block will then sit completely flush against the wall and larger photo panels will have two symmetrical keyhole fixings for extra stability. The smaller sizes can be provided without keyholes if you would like them as a desktop feature instead, simply add a note in the special instructions on your order form.
Bespoke wooden photo blocks
We are dedicated to producing the perfect product to suit your needs. All of our personalised wooden photo blocks are handmade for each order we receive and this allows us to cut the wood to the perfect size you require. That's why, as well as our extensive selection of standard sizes from a 10"x10" up to an impressive 60" x 40", we also offer a complete and bespoke service for our photo block prints. If you are looking for a specific size then we are happy to help.

To order a bespoke wooden photo block, simply select the next size up from our available range and design your correctly sized image with a border to the overall size you are ordering. If you are looking for a 17" x 22" print, you can add a plain border to your image in photoshop or lightroom to make your overall file size 20" x 24" which would be our next closest size up. This means when you are designing your order online, your image will not distort or crop when uploaded, but fit perfectly with the border included. Once at the checkout, simply let us know that you would like your wooden photo block cut to size, and specify your desired final print measurements via the special instructions on the order form.
Order your Wooden Photo Blocks
Order your Wooden Photo Blocks here from the sizes listed below. If you can't see the perfect block size for you, please do get in touch with us as we would be more than happy to check if your size is possible. If you can't see the exact size you need or if you have any additional queries, please feel free to contact our friendly customer support team who can guide you through the ordering process via email, our online chat, or over the phone. Once at the checkout, your wooden photo panel will have no frame as a default, but with the option to add a frame if you wish. To learn more about our framed wooden photo blocks, visit our dedicated page.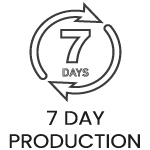 Sizes & Prices of Wooden Photo Blocks
See our size and price guide below. If you have any questions, simply get in touch with our friendly customer support team to see how we can help.
Portrait & Landscape
| | | |
| --- | --- | --- |
| Inches | mm | Wooden Blocks |
| 12 x 8" | 305 x 203 | £25.00 |
| 12 x 10" | 305 x 254 | £25.00 |
| 16 x 12" | 406 x 305 | £30.00 |
| 18 x 12" | 457 x 305 | £33.00 |
| 20 x 16" | 508 x 406 | £40.00 |
| 24 x 16" | 610 x 406 | £45.00 |
| 24 x 20" | 610 x 508 | £50.00 |
| 30 x 20" | 762 x 508 | £70.00 |
| 30 x 24" | 762 x 508 | £70.00 |
| 36 x 24" | 914 x 610 | £100.00 |
| 40 x 30" | 1016 x 762 | £150.00 |
| 60 x 40" | 1524 x 1016 | £230.00 |
Square & Circle
| | | |
| --- | --- | --- |
| Inches | mm | Wooden Blocks |
| 10 x 10" | 254 x 254 | £25.00 |
| 12 x 12" | 305 x 305 | £30.00 |
| 16 x 16" | 406 x 406 | £35.00 |
| 20 x 20" | 508 x 508 | £45.00 |
| 24 x 24" | 610 x 610 | £60.00 |
| 30 x 30" | 762 x 762 | £90.00 |
| 36 x 36" | 914 x 914 | £120.00 |
| 40 x 40" | 1016 x 1016 | £180.00 |
Panoramic
| | | |
| --- | --- | --- |
| Inches | mm | Wooden Blocks |
| 30 x 10" | 762 x 254 | £50.00 |
| 30 x 12" | 762 x 305 | £55.00 |
| 30 x 15" | 762 x 381 | £65.00 |
| 36 x 12" | 914 x 305 | £65.00 |
| 40 x 20" | 1016 x 508 | £100.00 |
| 50 x 20" | 1270 x 508 | £150.00 |
| 60 x 20" | 1524 x 508 | £170.00 |
PRICES ARE EXCLUSIVE OF VAT
---