Signing Boards Overview
Our signing boards are a contemporary way to capture the memories of a special day by having a lifelong display to remind you of the people you shared it with. Often referred to as signature frames, these unique wedding gifts are stylish, elegant, highly personal and the perfect wedding guest book alternative. For photographers wanting to offer their clients an additional memoir for the big day or upsell pre-wedding shoot packages, signing boards are certainly a great choice.

We offer signature frames in a variety of aspects, orientations, and frame colours. Made by hand by our team of skilled technicians, our signing boards are made to the highest standard on each and every order. With a sturdy frame housing a fine art giclee lustre print, these are a great addition to photography packages for weddings, parties, events, bar & bat mitzvahs and more. Why not offer the signing board as an addition to your existing photography package?
You can order a blank signing board to add an image later, or choose to have us print an existing favourite photo or even better, host a pre wedding shoot to get to know the couple better. Our framed wedding signature boards are all provided with flexible tabs at the back of the frame, designed to be maneuvered to remove the board to be presented on an easel or table for easy accessibility.

Guests can then sign the board and at the end of the event, simply re-assemble the frame with the acrylic, board, photograph ready to be hung on the wall. Our signing boards are a unique alternative to a wedding guest book and a fantastic gift for any Bride or Groom to keep precious memories of their special day on display in their home.
Framed signing board
Our framed signing boards are provided to you with the image sealed onto the board but with a removable mount, enabling you to use a picture of the happy couple from their engagement or pre-wedding shoot and then exchange it later for their best and most cherished shot from the wedding day itself. The backboard, print, mount and acrylic overlay are delivered to you within the frame secured with black flexi-tabs at the rear. Simply loosen the flexi-tabs to release the mount and print to showcase on a table or easel for guests to sign on the special day. The mount and print can then be placed back into the frame with ease and resealed to display those loving words and well-wishes.
Colour Options
Choose from one of four frame colours to create your framed signing board. Available in black, white, champagne and silver finishes.
Before any big event, you can order your signing board unframed directly from our website with or without a printed photo. Orders without a photo are supplied unsealed as a signature board with an aperture of your choice combined with a rigid backboard, so you can add your photo once you're ready. If you've ordered a signing board and uploaded a photo, we will send it out to you securely and tightly sealed against a rigid backboard. On the day itself, display it in a prominent location (on a table or an easel) so that guests can leave their best wishes and personal messages.

Please note you cannot change the photo at a later date with the unframed option as the mount is fully sealed to the image and rear board. We can supply these unsealed if requested in the special instructions during the order form at the checkout.
Print Quality
We use the highest quality fine art papers and high quality Epson inkjet printers to create archival prints to last a lifetime. Each photo is provided on fine art lustre paper with excellent image quality and a subtle surface sheen for a professional finish.
Order your Signing Boards
Order your Signing Boards here from the sizes listed below. Choose if you would like to order a signature board with or without a frame, and if you'd like to include a photo or not. If you have any questions about ordering a signing board, please get in touch with one of the team.
Click on the size below to order you Signing Board With Photo.
Click on the size below to order you Signing Board Without Photo.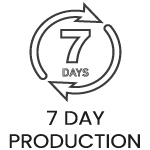 Sizes & Prices of Signing Boards
See our size and price guide below. If you have any questions, simply get in touch with our friendly customer support team to see how we can help.
Signing Board With Photo
| | | | |
| --- | --- | --- | --- |
| Inches | Size (mm) | Price without Frame | Price with Frame |
| 20 x 16" | 508 x 406 | £25.00 | £43.00 |
| 20 x 20" | 508 x 508 | £27.50 | £46.50 |
| 20 x 24" | 508 x 610 | £30.00 | £50.00 |
Signing Board Without Photo
| | | | |
| --- | --- | --- | --- |
| Inches | Size (mm) | Price without Frame | Price with Frame |
| 20 x 16" | 508 x 406 | £18.75 | £36.75 |
| 20 x 20" | 508 x 508 | £20.50 | £39.50 |
| 20 x 24" | 508 x 610 | £22.50 | £42.50 |
PRICES ARE EXCLUSIVE OF VAT
---