Smaller Album Duplicates
Smaller Album Duplicates are available from 10x10cm to A4 size with an extensive range of covers. Perfect for sharing with friends and family.
Overview
Smaller album duplicates can be ordered at the same time as your main album without the need to redesign. Simply design your album and add your duplicates when at the checkout where you'll be presented with a variety of options in corresponding sizes to your main album. While the premium main album covers are not available with the smaller album duplicates, we have a range of cover options to create a matching set with similar text or image personalisation options.

Product Options
Choose the option that works best for your clients, from premium photographic lustre paper to match your main album, multi packs of hardback printed paper, or a set of mini softback books, perfect for handing out to friends, family, bridal parties or potential clients.
Hardback Cover Options
Hardback smaller album duplicates can be made in the same cover material as your main album. For main albums with an image option for the cover, you can have a photographic dust jacket wrap for your hardback duplicates with the image printed on the front, finished with a black gloss wrap on the back. Similarly for the packs of softbacks, if you have an image based main album cover such as an acrylic or metal cover, your softback duplicates will be printed with the same image on the front of the cover, and black gloss on the back of the cover.

If you have chosen Embossing for your main album, then your smaller duplicates will be personalised with matching text, printed directly onto the material instead. Unfortunately the full embossing option is not available on any of the smaller duplicates.

Click the swatches below to find out more.

Soft Back Cover
Soft back smaller album duplicates paired with an embossed main album in any cover colour will have the cover made in a premium grey uncoated card with the text printed in black on the front. This would be the same for linen, leather or leatherette main albums, as the softbacks cannot be printed to match the material colours, so are all provided in a grey cover with black text as standard.

Genuine Leather Colour Options
Click here to download a PDF of our Leather colours.
Leatherette Colour Options
Click here to download a PDF of our Leatherette colours.
Portrait
A4
Hardback
Photo Paper (1x)
Printed Paper (1x)
A5
Hardback
Photo Paper (1x)
Printed Paper (2x)
A6
Hardback
Printed Paper (4x)
A6
Softback
Printed Paper (8x)
Landscape
A4
A5
Hardback
Photo Paper (1x)
Printed Paper (2x)
A6
Hardback
Printed Paper (4x)
A6
Softback
Printed Paper (8x)
Square
20 x 20cm
15 x 15 cm
Hardback
Printed Paper (2x)
10 x 10 cm
Hardback
Printed Paper (4x)
10 x 10 cm
Softback
Printed Paper (8x)
Paper Options
Hardback - Photographic
Professional colour paper from the Fuji Crystal Archive range with a semi-matt finish, this paper is coated with a soft, speckled sheen to give a high quality photographic finish with accurate colours throughout. This versatile paper remains our original and most popular paper option, as it offers a timeless feel with beautifully detailed, photographic reproductions for each and every image. With minimal image interruption across the centre seam, this paper is ideal for stunning panoramic shots as it lays completely flat when open.
Hardback - Press Printed
Our smaller album duplicates are made using a combination of press printed paper and traditional mounting techniques to create a completely matt effect, stiff lay flat paper to mimic your main album design and structure but with slightly thinner pages. While this print method is not as high quality as the photographic print in the main album sizes, it's an excellent, cost effective mini replica version, perfect for gifting to parents, friends, family or bridal parties.
Softback - Press Printed
Using the latest digital press printing technology, this premium magazine style paper bows at the centre seam to create a traditional coffee table book feel with matt effect flexible paper and the ability to bind with a soft back cover. Press printing uses a 4 colour print process to produce a high quality product available in multipacks of 4 or 8 copies. Given the binding process, up to 10mm of the centre of spreads can be concealed in the bowed seam, so please consider this when creating your design.
How To Order?
Create your photo albums and photo books through our FREE professional design software "Simware". If you're a professional photographer, you can register with us to become a Pro user for free and download your own personal copy of the SimWare for your Mac or PC. This easy to use, drag and drop software gives you the freedom and functionality to design any product using our huge library of templates, layouts and masks, or create your own and save for future projects.
Create PDF proofs to send to your clients and make creating albums a quick and easy element of your premium photography packages. If you have not already done so, please register for Professional access to the website.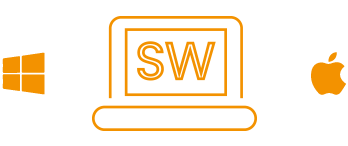 Free Software
FREE professional design software
Mac & Pc Compatible
1000's of Pre Designed Templates
Create & Save Your Own Templates
Easy Drag & Drop Functionality
Client PDF & JPEG Proofing
Secure Online payments & upload
Production & Delivery time
The production time for our smaller album duplicates is 10 working days. Once your order has been dispatched with our trusted and reliable couriers you will be able to track the parcel from dispatch to delivery. If you are in UK mainland your parcel will be put on a next working day delivery service.

Sizes & Prices of Smaller Album Duplicates
Smaller Album Duplicates
Prices are available for 'PRO' users only.
Please register and login for access
---