Discounted Professional Photo Frame Samples
We offer bespoke frame samples exclusively for professional photographers at a discounted rate of 40% off, to help dress your studio professionally and cost effectively. Design your sample with your favourite mount layout and frame moulding and enter our sample code at the checkout. Personalised sample frames give you the opportunity to showcase the quality & options to clients to help boost your sales. You can order a maximum of one of each product in each size to display as a sample but you can order a range of different products to showcase your options. If you require more samples for your studio please get in touch with the team who can help. We offer a selection of different sample options to support your photography business, including paper samples, mount samples, sets of chevron mouldings and fully finished professional frames.
How To Order Sample Photo Frames & Wall Art
Design your own choice of either a traditional frame or a modern wall art alternative to create your perfect sample product. Show clients the options available in your packages with some examples in your studio or to take our on the road. Once you're happy with your final layout, proceed to the checkout and add our dedicated sample discount code to the voucher code box for 40% off off the list product price.

Sample discount code to use
SAMPLE2022

Exclusively for professional photographers, custom photo wall art products are available as samples up to a 36x24" size and frame samples are available up to a 30x24" size. ALL sample products are marked as "SAMPLE" but not branded with any SIM logo's to preserve anonymity. We also offer a range of chevron sample packs to accompany your chosen frame so you can show your clients a range of colours and mouldings without breaking the bank. Please note chromaluxe metal prints are not available as samples and are excluded from all sample discounts and promotions.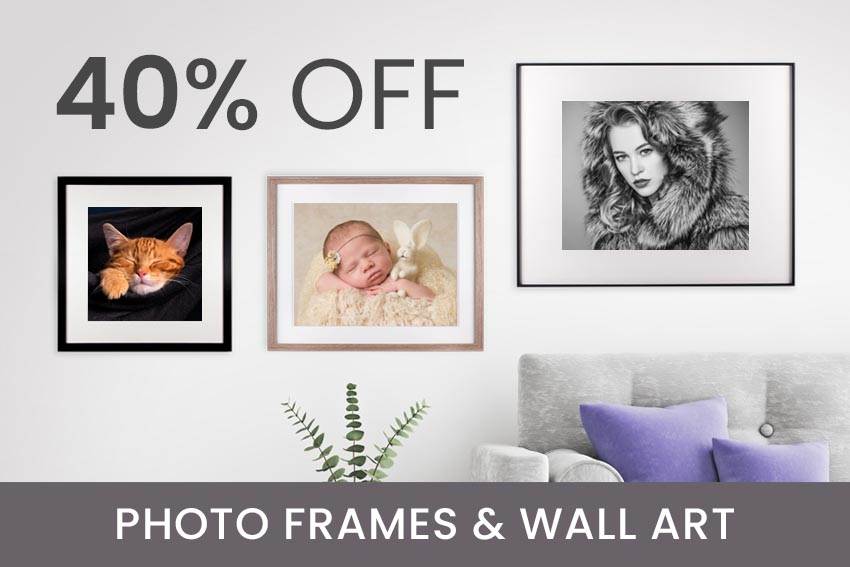 No SIM Branding
We never include any SIM branding on your sample products so your supplier can remain anonymous to your clients if you wish. Products purchased with the sample discount code are branded on the reverse of the frame as "SAMPLE" and are exclusively for professional photographers for use as displays for clients and items cannot be re-sold. Sample frames and wall art products arrive fully finished, complete with hangings in place. Your sample frame will arrive carefully and precisely packaged in a bespoke white custom presentation box, presented exactly the same as a client order so you can have the full delivery experience.
Frame Paper Options
You can browse our paper options available on all of our frame ranges and even order a sample paper pack to see the finishes in person.
Mount Styles Available With Our Frames
Single & Double Mount Colour Options
We offer 4 colours for our single & double mount options across our frames with the option to order a mount sample pack to see the colours in person.
Start Designing Your Samples
To begin designing your sample, select the moulding frame range or wall art product you'd like to order. Choose from our range of sizes and orientations at the bottom of each product page to begin uploading your images and creating your product. Here are some popular options to get you started.