Acrylic Photo Blocks Overview
Visually striking, our acrylic photo blocks are perfect for cherished memories to take centre stage in a modern, minimalist style with true wow factor.

This Perspex photo block or commonly referred to as glass photo blocks, gives each image a glossy and high shine feel from beneath the ultra clear 20mm thick acrylic complete with a reflective polish. Your image is seamlessly mounted onto the acrylic giving it depth and substance through the 20mm ultra clear glass effect perspex complete with a black lining on the rear to protect your image for years to come.

Ideal for desks, shelves, tables and mantelpieces, our acrylic photo blocks lend each image vibrancy and glossy colours, perfect for wherever you choose to display them. An acrylic photo block display from Sim is available in your choice of a portrait, landscape or square orientation in 7 different sizes to work with every image.
To ensure each acrylic photo block is made to the highest standard, we use the latest technology in inkjet printing to produce each image on premium glossy fine art paper. Your print is carefully and seamlessly adhered to the back of the acrylic block to preserve the detail and give your image centre stage. Your print is then backed with an opaque black lining to ensure the colours on your image are vibrant and true to life.

For extra depth, your image spans right out to the four edges of the acrylic block with no borders or interruptions, bringing additional impact and elegance. Include 5mm of bleed on every outer side of your image, as your print will be trimmed to size to seamlessly blend with the acrylic from edge to edge. To ensure no crucial parts of your image are trimmed from the bleed, make sure any borders, signatures, logos, heads, hands or feet are well away from the edges when uploading your image.
How to display your Acrylic Photo Block
Created from solid 20mm glass like acrylic, these sturdy blocks will stand by themselves in your orientation of choice without any need for a kick stand or base, making these the perfect minimalist addition for every home or office. With crisp right angle edges and diamond polished edges, every acrylic block is inspected carefully before use to ensure that only perfect, high quality pieces are used for your images to create a truly professional and elegant look.

Finished with a protective black card on the reverse of your photo, these acrylic photo blocks arrive ready to display directly from their own individual presentation box completely free of charge. Choose from a range of sizes including two square options to perfectly fit your style of photography. The contemporary 6×6 option is an ideal addition to your family photography base packages to showcase the best image from each and every shoot to be displayed in your clients home.
Order your Acrylic Photo Blocks
To order your acrylic photo block, simply select your ideal size from the range of options available and then upload your image to our online designer. Once your image is in place, you can go through to the checkout.
Click on the size below to order you portrait Acrylic Photo Block.
Click on the size below to order you landscape Acrylic Photo Block.
Click on the size below to order you square Acrylic Photo Block.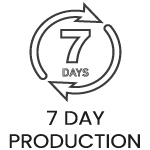 Sizes & Prices of Acrylic Photo Blocks
See our size and price guide below. If you have any questions, simply get in touch with our friendly customer support team to see how we can help.
Portrait & Landscape
| | | |
| --- | --- | --- |
| Inches | mm | Price |
| 6 x 4" | 152 x 102 | £30.00 |
| 7 x 5" | 178 x 127 | £32.00 |
| 8 x 6" | 203 x 152 | £35.00 |
| 9 x 6" | 229 x 152 | £45.00 |
| 10 x 8" | 254 x 203 | £45.00 |
Square
| | | |
| --- | --- | --- |
| Inches | mm | Price |
| 6 x 6" | 152 x 152 | £35.00 |
| 8 x 8" | 203 x 203 | £45.00 |
PRICES ARE EXCLUSIVE OF VAT