Acrylic Box Frames Overview
Create the ultimate professional display with our acrylic box frames. This bold design is the perfect feature for every space, providing depth and focus for your photography. Your image will be printed directly onto high grade acrylic to produce a powerful and professional finish. Encased in a solid bespoke cut aluminium moulding, choose from 8 finishes including 3 brushed metallic options and 5 imitation wood wrap colours for the outer box surround.

The metallic choices consist of 3 classic colours, including a rich dark gun metal, a bright textured silver and a warm brushed champagne. In the wood wrap finish, you have the choice of 5 on trend neutral colours with charcoal, dark grey, light grey, walnut and cream. Our bespoke aluminium picture frames are all made by hand in the UK by our skilled team of framers. An acrylic box frame adds the final touch to your photography, encasing your artwork and memories in a bold yet elegant statement piece for any home, workspace, or gallery.
Colour Samples
Choose from 8 colour finishes including 3 brushed metallic options and 5 imitation wood wrap colours for the outer box frame.
Acrylic Box Frame Print Quality
Our print quality offers the highest standard possible through cutting-edge media technology. Our large format UV printer gives a flawless edge-to-edge image whilst enhancing colours and lines for a stunning and premium product. This deep slimline aluminium box frame is made to measure to create a completely flush finish around your Perspex print with no gaps or wiggle room.
Longevity & Protection
Our industry-leading UV printing technology is incredibly durable, we use fade resistant archival ink to last 70 years so you can rest assured that your favourite photographs will last a lifetime. The aluminium and acrylic are expertly combined to create a lasting and professional display that makes our acrylic box frame the ultimate lifelong product.
How to hang your acrylic box frame
Our wall art products are specifically designed to create the perfect display in your studio, home, or workspace quickly and easily, so our acrylic box frames are finished with wall hanging fixings already in place. Two metal hangers will be pre fitted on the reverse of the subframe, so as soon as it arrives with you, the acrylic box frame can be put up in position on your wall. These hangers are extremely sturdy, designed to hold your acrylic frame in place perfectly, all you need to add are two screws in the wall.

The reverse of your box frame is also completely hollow, making the final product incredibly lightweight and easy to hang. Your acrylic box frame will arrive carefully and precisely packaged in a bespoke white custom presentation box housed inside a brown protective cardboard carton. We use foam corners and polystyrene to ensure that the acrylic box frame arrives with you in excellent condition on every order, ready to present straight to your client.
Custom Sized Acrylic Box Frame
We can provide nearly any size acrylic up to 36"x24" and precision cut to the custom sizes you require. Simply select the next size up from our available range, and design your correctly sized image with a border to the overall size you are ordering. If you are looking for a 32" x 22" print, you can add a plain border to your image in photoshop or lightroom to make your overall file size 36" x 24" which would be our next closest size up.

This means when you are designing your order online, your image will not distort or crop when uploaded, but fit perfectly with the border included. Once at the checkout, simply let us know that you would like your acrylic box frame cut to size, and specify your desired final print measurements via the special instructions on the order form.
Order your Acrylic Box Frames
Order your acrylic box frame here from the sizes listed below. If you require a custom size, we can provide a range of dimensions from 10"x10" up to a maximum of 60" x 40" but if you have any questions about ordering a custom size, please do get in touch with us as we would be more than happy to check if your size is possible.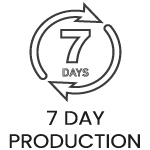 Sizes & Prices of Acrylic Box Frames
See our size and price guide below. If you have any questions, simply get in touch with our friendly customer support team to see how we can help.
Portrait & Landscape
| | | |
| --- | --- | --- |
| inches | Size (mm) | Price |
| 16 x 12" | 406 x 305 | £70.00 |
| 18 x 12" | 457 x 305 | £75.00 |
| 20 x 16" | 508 x 406 | £95.00 |
| 24 x 16" | 610 x 406 | £115.00 |
| 24 x 20" | 610 x 508 | £130.00 |
| 30 x 20" | 762 x 508 | £160.00 |
| 30 x 24" | 762 x 610 | £185.00 |
| 36 x 24" | 914 x 610 | £210.00 |
Square
| | | |
| --- | --- | --- |
| Inches | Size (mm) | Price |
| 12 x 12" | 305 x 305 | £58.00 |
| 16 x 16" | 406 x406 | £85.00 |
| 20 x 20" | 508 x 508 | £110.00 |
| 24 x 24" | 610 x 610 | £150.00 |
| 30 x 30" | 762 x 762 | £210.00 |
Panoramic
| | | |
| --- | --- | --- |
| Inches | Size (mm) | Price |
| 30 x 10" | 762 x 254 | £120.00 |
| 30 x 12" | 762 x 305 | £130.00 |
| 30 x 15" | 762 x 381 | £160.00 |
| 36 x 12" | 914 x 305 | £155.00 |
PRICES ARE EXCLUSIVE OF VAT
---