Acrylic Photo Prints Overview
Enhance your home or studio with the addition of modern, high gloss acrylic photo prints for an aesthetic, streamlined feature. While frames remain traditionally popular, this stunning floating option allows for no distractions and makes your photography the absolute focus for any space. This could make our acrylic photo prints the perfect choice for your photography packages.
Perspex printing allows for the highest quality image of your photograph to be printed directly onto acrylic from edge-to-edge. Your 3mm acrylic photo print is then sealed at the back with a layer of 3mm di-bond, protecting the ink layer for generations to come for a 6mm overall thickness.

This process gives precision cut edges with a sleek and glossy finish to perfectly complement your modern home, studio, or workspace. To give your acrylic photo prints extra presence, you can choose to add a satin black or satin white frame at the checkout. For more information on our framed acrylic photo prints, see our dedicated page.

This elegant acrylic print on perspex ensures your photography is the sole centre of attention while greatly enhancing the impact of your artwork.
Round acrylic photo prints
By having your photos printed on acrylic, you have the ultimate flexibility for sizes, orientations and shape. In addition to a range of standard and custom sizes in portrait, landscape or square orientations with traditional square corners, you can opt to display your photography as a round acrylic print instead. With a completely circular finish, this photo acrylic orb is the ultimate modern display.

Why not mix things up a little? Choose a collection of varying different acrylic photo print sizes and shapes to display on your wall – this will make for a beautiful, unique, and visually stimulating showcase. Whether you are looking to make a statement in your home, add character to your studio, or bring a modern and minimalist vibe to your bar or restaurant, acrylic photo prints are the perfect addition to your space.
Acrylic Photo Print Quality
Our print quality offers the highest standard possible through cutting-edge media technology. Our large format UV printer gives a flawless edge-to-edge image whilst enhancing colours and lines for an stunning and premium product.
How to Hang Your Acrylic Photo Print
To create the perfect display in your studio, home, or workspace, our products are on hand to make the process as easy as possible. All of our acrylic photo prints are created with a pre-fitted rear mounted subframe. Creating the ultimate illusion, your acrylic photo print will float 10mm away from the wall for an impressive and minimalist finish.

Acrylic photo prints are designed to sit parallel to the wall while floating away from the wall surface. All of our acrylic photo prints are finished with wall hanging fixings already in place. Two metal hangers will be pre fitted on the reverse of the subframe, so as soon as it arrives with you, the acrylic print can be put up in position on your wall. These hangers are extremely sturdy, designed to hold your acrylic in place perfectly, all you need to add are two screws in the wall. Your acrylic will arrive carefully and precisely packaged in a bespoke white custom presentation box housed inside a brown protective cardboard carton. We use foam corners and polystyrene to ensure that the acrylic print arrives with you in excellent condition on every order, ready to present straight to your client.
Custom Sized Acrylic Photo Prints
We can provide nearly any size acrylic up to 60"x40" precision cut to the custom sizes you require. Simply select the next size up from our available range, and design your correctly sized image with a border to the overall size you are ordering. If you are looking for a 32" x 22" print, you can add a plain border to your image in photoshop or lightroom to make your overall file size 36" x 24" which would be our next closest size up.

This means when you are designing your order online, your image will not distort or crop when uploaded, but fit perfectly with the border included. Once at the checkout, simply let us know that you would like your acrylic photo print cut to size, and specify your desired final print measurements via the special instructions on the order form.
Order your Acrylic Photo Prints
Order your acrylic photo prints here from the sizes listed below. If you require a custom size, we can provide a range of dimensions from 10"x10" up to a maximum of 60" x 40" but if you have any questions about ordering a custom size, please do get in touch with us as we would be more than happy to check if your size is possible. You will have the option to upgrade your order to a framed acrylic print at the checkout which you can find more information for on our dedicated framed acrylic photo print page.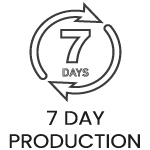 Sizes & Prices of Acrylic Photo Prints
See our size and price guide below. If you have any questions, simply get in touch with our friendly customer support team to see how we can help.
Portrait & Landscape
| | | |
| --- | --- | --- |
| Inches | Size(mm) | Acrylic Print |
| 12 x 8" | 305 x 203 | £32.00 |
| 12 x 10" | 305 x 203 | £40.00 |
| 16 x 12" | 406 x 305 | £52.00 |
| 18 x 12" | 457 x 305 | £55.00 |
| 20 x 16" | 508 x 406 | £65.00 |
| 24 x 16" | 610 x 406 | £75.00 |
| 24 x 20" | 610 x 508 | £85.00 |
| 30 x 20" | 762 x 508 | £100.00 |
| 30 x 24" | 762 x 610 | £120.00 |
| 36 x 24" | 914 x 610 | £140.00 |
| 40 x 30" | 1016 x 762 | £200.00 |
| 60 x 40" | 1524 x 1016 | £320.00 |
Square & Circle
| | | |
| --- | --- | --- |
| Inches | Size(mm) | Acrylic Print |
| 10 x 10" | 254 x 254 | £32.00 |
| 12 x 12" | 305 x 305 | £45.00 |
| 16 x 16" | 406 x 406 | £65.00 |
| 20 x 20" | 508 x 508 | £85.00 |
| 24 x 24" | 610 x 610 | £100.00 |
| 30 x 30" | 762 x 762 | £160.00 |
| 36 x 36" | 914 x 914 | £210.00 |
| 40 x 40" | 1016 x 1016 | £240.00 |
Panoramic
| | | |
| --- | --- | --- |
| Inches | Size(mm) | Acrylic Print |
| 30 x 10" | 762 x 254 | £70.00 |
| 30 x 12" | 762 x 305 | £77.00 |
| 30 x 15" | 762 x 381 | £90.00 |
| 36 x 12" | 914 x 305 | £90.00 |
| 40 x 20" | 1016 x 508 | £140.00 |
| 50 x 20" | 1270 x 508 | £180.00 |
| 60 x 20" | 1524 x 508 | £240.00 |
PRICES ARE EXCLUSIVE OF VAT
---