Wooden Photo Album Boxes Overview
Our handmade wooden photo album boxes are a popular product for neatly housing your albums and books, or for marketing your brand with personalised presentation cases. They are made from a black solid wooden frame for a sturdy and rigid finish with a soft-lining and ribbon helping protect your product for years to come. Wooden photo album boxes are perfect to add as a gift when passing your album to your clients, or to showcase your samples in.

The outside of the case can be fully personalised with a fully printed design on the face, back and spine, including photographs, text, logos or graphics. Your design is laminated with a hard-wearing scratch resistant satin seal, perfect for secure storage and easy transportation. The hardwearing nature of this product provides easy cleaning and is ideal to store on shelves or in a studio, keeping your album dust free and protected for a lifetime. These wooden photo album boxes are available in a range of sizes and depths to fit your album or book as necessary.

Product Options
Personalised wooden photo album boxes are available in a satin-matt laminate finish, creating a protected coating that is scratch resistant and easy to clean. Inside is finished with a black velvet finish on the base and inside lid, with a base ribbon to allow for easy album removal. This helps to ensure that your photo album box can be stored safely on shelves or bookcases and will look great even with consistent use.

Sizes & Formats
Choose the perfect personalised wooden photo album box size and shape to fit your album or book to protect it for many years. Available in landscape, portrait and square format in the following sizes, A3, A4, 35x25cm, 30x30cm and 25x25cm. Depths available are 30mm, 40mm, 60mm and 70mm dependant on the number of pages that your album or book has.

Album Depth Table
Box Depth - Product Page Count
Product
30mm depth
40mm depth
60mm depth
70mm depth
Lay-Flat Album
20 pages max
40 pages max
70 pages max
100 pages max
Classic Album
20 pages max
30 pages max
40 pages max
-
Matted Album
10 pages max
20 pages max
30 pages max
40 pages max
Coffee Table Book
Printed
200 pages max
-
-
-
Coffee Table Book
Lay-Flat
100 pages max
-
-
-
Coffee Table Book
Photographic
20 pages max
50 pages max
-
-
Fine Art Book
20 pages max
40 pages max
70 pages max
-
Photo Memory Book
20 pages max
-
-
-
Free Software Download
Our free downloadable Simware software allows you to have full control when designing your personalised photo products. Your personal copy of the Simware will be saved to your specific laptop or desktop without the need to be connected to the internet so you can work on the go when you need to.
With a simple drag and drop system, our Simware allows you to upload your images and drop them into a huge selection of pre made templates to visualise the final look of your album, photo book or other photographic product.
We've filled our Simware with heaps of useful tools and functions to make designing any product as quick and easy as possible.
Mac & Pc Compatible
1000's of Pre Designed Templates
Create & Save Your Own Templates
Easy Drag & Drop Functionality
Client PDF & JPEG Proofing
Secure Online payments & upload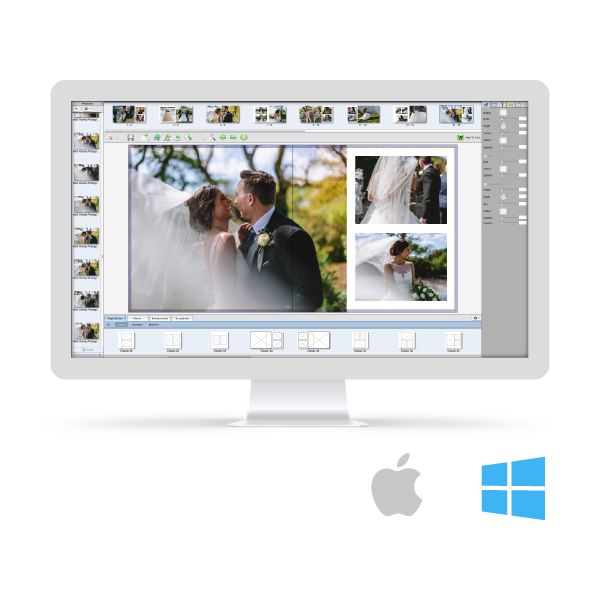 Production & Delivery Time
Our personalised wooden photo album boxes usually take 5 working days in production. If you would like your order to be dispatched within 3 working day please choose the fast track option in the checkout. Once your order has been dispatched with our trusted and reliable couriers, you will be able to track the parcel from dispatch through to delivery. If you are in UK mainland your parcel will be put on a next working day delivery service once production is complete.

Prices are available for 'PRO' users only. Please register and login to gain access.