Wooden Photo Wrap Overview
Simple and timeless, the Wooden Photo Wrap will display your image seamlessly from edge to edge with added depth to lift your picture off the wall. Natural wooden photo wraps are the perfect way to adorn your clients walls with either a single powerful image in pride of place, or a selection of smaller blocks to create a gallery collage.

Produced on a high quality lustre fine art print with a protective lustre seal, your image is expertly wrapped around made to measure wood panels for an ultra smooth flawless finish. Light and agile, these hollow natural blocks are provided with a black card panel on the back for a professional finish.

Choose to wrap your image around the edges of the boxy 40mm deep profile, or design your photo with a white or a black outer edge wrap with our clever online templates. With a simple keyhole fixing, your image sits flush against the wall in pride of place, beautifully displaying your photography.
Collage Wooden Photo Wraps
Make a masterpiece with a selection of smaller wooden photo wraps to create a stunning collage on the wall. Perfect for mixing and matching different orientations, our wooden wrapped pictures can be printed as small as 8x8" square, making them an excellent product to start a collection for your studio or for clients to add to over time.
Print Quality
Our wooden photo wraps are made to the highest standard possible with superb lustre fine art prints, hand finished and wrapped flush around the bespoke wooden frame. We utilise market-leading Epson inkjet printers to bring your favourite images to life with a vibrancy that will last. For extra protection and a wipe-clean finish on your wooden photo wrap, every print is sealed with a satin-matt laminate to protect your image for years to come.
How To Hang Your Wooden Photo Wrap
Each wooden photo wrap arrives with a simple keyhole neatly cut out in the back for quick and easy wall hanging. Boxed and presented fully finished, you can hang your bespoke natural wall art effortlessly as soon as it arrives to fit flush against the wall. Larger gallery blocks are created with two symmetrical keyhole fixings for extra stability and even weight distribution.

Natural wooden photo wraps are carefully and precisely packaged in a bespoke white custom presentation box, housed inside a brown protective cardboard carton. We use foam corners and polystyrene to ensure that every wooden photo print arrives with you in excellent condition, ready to present straight to your client.
Wrap Options for Wooden Photo Wraps
Choose from our selections of wrap options to match your image and style when creating your wooden photo wrap. With this versatile product you can choose from 3 different templates within our online software for the 40mm outer edge wrap. For the ultimate flexibility, you can create your own coloured edges to incorporate the tones within your picture by designing your image with a 40mm coloured border. Upload your image online to try out our 3 easy to use templates and visualise your final product with the choice of white edges, black edges or a full image wrap.
Image Wrap
The traditional canvas effect where the main image continues over the sides of the Wooden photo wrap. Design this as a coloured border if you wish
Black Edge
Create a simple solid block of black colour along the side of your Wooden photo wrap
White Edge
Create a simple solid block of white colour along the side of your Wooden photo wrap.
Order Your Wooden Photo Wrap
Order your wooden photo wrap here from the sizes listed below. If you require a custom size, we can provide a range of dimensions from 6"x 6" up to a maximum of 40"x 30" to suit your needs. If you have any questions about ordering a custom size, please do get in touch with the team as we would be more than happy to check if your size is possible.

Click below on your ideal orientation and size below to begin designing.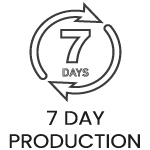 Sizes & Prices of Wooden Photo Wrap
See our size and price guide below. If you have any questions, simply get in touch with our friendly customer support team to see how we can help.
Portrait & Landscape
| | | |
| --- | --- | --- |
| Inches | mm | Price |
| 7 x 5 | 178 x 127 | £25.00 |
| 8 x 6 | 203 x 152 | £25.00 |
| 9 x 6 | 229 x 152 | £25.00 |
| 10 x 8 | 254 x 203 | £25.00 |
| A4 - 8.3 x 11.7 | A4 - 210 x 297 | £32.00 |
| 12 x 8 | 305 x 203 | £32.00 |
| 12 x 10 | 305 x 254 | £35.00 |
| 14 x 11 | 356 x 280 | £35.00 |
| 15 x 12 | 381 x 305 | £38.00 |
| 16 x 11 | 407 x 279 | £40.00 |
| 16 x 12 | 406 x 305 | £40.00 |
| 16 x 14 | 406 x 356 | £43.00 |
| 18 x 12 | 457 x 305 | £43.00 |
| 20 x 15 | 508 x 381 | £54.00 |
| 20 x 16 | 508 x 406 | £50.00 |
| 24 x 16 | 610 x 406 | £59.00 |
| 24 x 20 | 610 x 508 | £62.00 |
| 26 x 17 | 660 x 432 | £64.00 |
| 30 x 20 | 762 x 508 | £71.00 |
| 30 x 24 | 762 x 610 | £82.00 |
| 36 x 24 | 914 x 610 | £85.00 |
| 36 x 27 | 914 x 686 | £95.00 |
| 37 x 24 | 940 x 610 | £95.00 |
| 39 x 27 | 991 x 686 | £97.00 |
| 40 x 20 | 1016 x 508 | £90.00 |
| 40 x 25 | 1016 x 635 | £97.00 |
| 40 x 30 | 1016 x 762 | £105.00 |
Square
| | | |
| --- | --- | --- |
| Inches | mm | Price |
| 6 x 6 | 152 x 152 | £25.00 |
| 8 x 8 | 203 x 203 | £25.00 |
| 10 x 10 | 254 x 254 | £30.00 |
| 12 x 12 | 305 x 305 | £35.00 |
| 16 x 16 | 407 x 407 | £45.00 |
| 17 x 17 | 432 x 432 | £53.00 |
| 20 x 20 | 508 x 508 | £60.00 |
| 24 x 24 | 610 x 610 | £67.00 |
| 27 x 27 | 686 x 686 | £80.00 |
| 30 x 30 | 762 x 762 | £90.00 |
Panoramic
| | | |
| --- | --- | --- |
| Inches | mm | Price |
| 17 x 8 | 432 x 203 | £50.00 |
| 20 x 9 | 508 x 229 | £50.00 |
| 24 x 13 | 610 x 330 | £60.00 |
| 30 x 15 | 762 x 381 | £60.00 |
| 34 x 13 | 864 x 330 | £60.00 |
| 46 x 20 | 1168 x 610 | £100.00 |
PRICES ARE EXCLUSIVE OF VAT