High Quality Canvas Prints Overview
Offer character, style and professional quality to all your clients a high quality canvas print, handmade in the UK. Our canvas prints are made from the finest 100% cotton, hand stretched over a made-to-measure pine stretcher bar frame to create a product that is truly bespoke. We also utilise market-leading media technology and professional canvas Giclée printing methods to ensure the highest possible quality and resolution for your image. Professional canvas prints are extremely popular because of their undoubted timeless charm and soft, natural finish making them a staple decor piece for any home, studio or workplace.

We use only the highest quality materials including premium 2" deep gallery stretcher bars, giving your canvas print a professional feel and presence on any wall. Encase your photography and let your images take centre stage with a professional quality canvas print. You can also choose to upgrade your masterpiece with a handmade high-quality frame which you can read more about on our framed canvas print page. With beautifully wrapped edges and a classic, timeless finish, our canvas prints are perfect for making a statement wherever you choose to display. Add canvases to your existing photography packages or offer them as an extra during your in-person sales.
Giclée Canvas Print Quality
Printed directly onto a sheet of bright white 100% cotton canvas, we use only the finest ultra-matte and completely seedless giclée roll for an utterly flawless fine art print. Flexible, soft and natural, this professional-grade material has excellent crack resistance when folded and stretched and it offers a perfectly neutral base for our cutting-edge 12 colour inkjet printing process.

This white base and ultra-fine inkjet printing means every detail in your canvas print is enhanced for an excellent quality finish, even on the cotton textured surface. With an overall matt effect finish, our canvas prints are timeless and stylish, in keeping with any interior decor design.
How to hang your high quality canvas print
Hand wrapped with neatly folded corners, your personalised canvas print is professionally stretched and stapled taught to give your photograph a perfectly smooth, flat and even finish. All of our high quality canvas prints are completed with a professional framer tape to ensure your print is sealed and looks great front and back. We then include pre-positioned wall hangers already in place to balance your canvas on the wall as well as felt bumpers to protect your paint work.

These hangers are extremely sturdy and durable, designed to hold your canvas in place perfectly, all you need to add are two screws in the wall. Your canvas print will arrive carefully and precisely packaged in a bespoke white custom presentation box, housed inside a brown protective cardboard carton. We use foam corners and polystyrene to ensure that the canvas print arrives with you in excellent condition on every order, ready to present straight to your client.
Stretcher Bars
Stretcher bars are the wooden framework solution used by artists to mount their canvas prints. At Sim, we only use the highest quality, thick gallery stretcher bars for every individual order giving your canvas a premium, professional feel. With finger jointed corner joints specifically designed to prevent warping, these stretcher bars fit together neatly to ensure your giclée canvas print lies flat against the wall for a flawless effect.
Custom size canvas prints
In addition to our range of standard sizes, we are able to accommodate a range of custom sizes on our high quality canvas prints as well up to a maximum of 38 x 60 inches. Stretcher bars are available in a range of fixed lengths, so it's worth getting in touch to see if your desired custom size is possible. Check our size and pricing table to see if there is a match or close match to your desired size, if not contact our friendly customer support team to see how we can help.
Order your High Quality Canvas Prints
Order your high quality canvas print online by clicking on the orientation and size you would like. This will take you to the online designer to upload your image and check the crop. You'll also have an option to add a frame at the checkout if you wish, for more information see our framed canvas wrap page.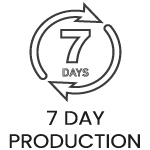 Sizes & Prices of High Quality Canvas Prints
See our size and price guide below. If you have any questions, simply get in touch with our friendly customer support team to see how we can help.
Portrait & Landscape
| | | |
| --- | --- | --- |
| Inches | Size(mm) | Canvas |
| 16 x 12" | 406 x 305 | £42.00 |
| 18 x 12" | 457 x 305 | £45.00 |
| 20 x 16" | 508 x 406 | £55.00 |
| 24 x 16" | 610 x 406 | £60.00 |
| 24 x 20" | 610 x 508 | £65.00 |
| 30 x 20" | 762 x 508 | £75.00 |
| 30 x 24" | 762 x 610 | £85.00 |
Square
| | | |
| --- | --- | --- |
| Inches | Size(mm) | Canvas |
| 12 x 12" | 305 x 305 | £40.00 |
| 16 x 16" | 406 x 406 | £48.00 |
| 20 x 20" | 508 x 508 | £60.00 |
| 24 x 24" | 610 x 610 | £75.00 |
| 30 x 30" | 762 x 762 | £100.00 |
Panoramic
| | | |
| --- | --- | --- |
| Inches | Size(mm) | Canvas |
| 30 x 12" | 762 x 305 | £65.00 |
PRICES ARE EXCLUSIVE OF VAT
---