LayFlat Photo Album Overview
Our layflat photo album is our most versatile and popular of our entire album range, with a choice of 7 different covers, 50 different colour materials and 5 paper types, the options with this photo album really are endless. The layflat photo album lays completely flat when open with thick, rigid card pages, allowing you to incorporate full panoramic images and edge to edge printing into your design.

Our traditional binding method means you can place images right across the centerfold, with minimal interruption from the spine crease giving true centre stage to your image. Photographic lustre and gloss paper are available as standard with this album but you can also opt to upgrade your paper to either photographic metallic or velvet, or our fine art inkjet paper.

The layflat photo album is assembled in double page spreads so will always start and end on a double page spread, and you can select either black or white end papers for inside your cover to compliment the overall design. Our layflat photo album can be designed by photographers using our free downloadable professional SimWare software once you have registered with us as a PRO user. This dedicated software allows you to visualise the final product with ease, with a simple image uploader and an instant proof creator to send to clients, making album designing quick, easy and hassle free. With a whole host of free templates available, you can simply drag and drop your images into your chosen layouts, or design and save your own templates to use for future designs.
Product Options
Layflat photo albums are available in 5 different sizes including A3, A4, 25x35cm, 30x30cm, and 25x25cm. Available in a landscape, portrait and square orientation.
Cover Options
We've got a cover option and colour to perfectly match the mood and look of your layflat photo album. Click the swatches below to find out more.
Genuine Leather Colour Options
Click here to download a PDF of our Leather colours.
Leatherette Colour Options
Click here to download a PDF of our Leatherette colours.
End Papers
Select the finishing touch for your layflat photo album with a choice of either black or white end papers. Simply choose the colour in the shopping cart when placing your order, as all layflat albums will start and end with a double page spread.
Presentation boxes
Take a look at our range of layflat photo album presentation boxes, you can add a USB and personalisation to any of the options.
Size & Formats
The professional Layflat photo album has the largest choice of formats and sizes in our professional album range. Choose from 3 different formats and 5 sizes.
Portrait
Landscape
Square
Paper options for LayFlat Photo Albums
With a choice of five papers our professional Layflat photo albums offer the largest selection across both our Album & Coffee table photo book range.
Lustre Photographic
Professional colour paper from the Fuji Crystal Archive range with a semi-matt finish, this paper is coated with a soft, speckled sheen to give a high quality photographic finish with accurate colours throughout. This versatile paper remains our most popular option with minimal image interruption across the centre seam, ideal for panoramic shots as it lays completely flat when open.
Gloss Photographic
Professional Fuji Crystal Archive paper with an ultra gloss finish, this premium paper gives images additional contrast and a deep, punchy feel whilst maintaining tonal properties and accurate reproduction. Popular with vibrant colours, this paper has a bright white base and wide colour gamut to give extra punch to every image, perfect for creating high impact pieces.
Metallic Photographic
This paper has a bright white metallic base within the film to create incredibly high quality, glossy images with a unique water effect surface when reflecting the light. Ideal for bright colours to give rich contrasts, pearlescent crystals will give your silver halide color prints a distinct sheen, creating a pearl-like appearance certain to capture attention and make a statement.
Fine Art Paper
Produced using high quality fine art inkjet printing, this paper gives a distinctively smooth and tactile feel with an ultra matt, completely non reflective finish. Combined with our premium archival inks, this paper boasts brilliant colours, deep blacks and impressive contrasts, perfect for giving images a timeless feel. We recommend extra care when handling due to its delicate surface.
Velvet Photographic
Our crystal archive fuji velvet paper boasts a professional coating with a zero-reflective top layer, creating a stunning deep-matte effect. With pure whites and a soft, tactile feel, this popular paper gives a dusky hue to deep blacks, perfect for vintage effect images. To see the full effect of velvet film on your images, we recommend requesting a free test print if you haven't ordered this paper before.
Free Software Download
Our free downloadable Simware software allows you to have full control when designing your personalised photo products. Your personal copy of the Simware will be saved to your specific laptop or desktop without the need to be connected to the internet so you can work on the go when you need to.
With a simple drag and drop system, our Simware allows you to upload your images and drop them into a huge selection of pre made templates to visualise the final look of your album, photo book or other photographic product.
We've filled our Simware with heaps of useful tools and functions to make designing any product as quick and easy as possible.
Mac & Pc Compatible
1000's of Pre Designed Templates
Create & Save Your Own Templates
Easy Drag & Drop Functionality
Client PDF & JPEG Proofing
Secure Online payments & upload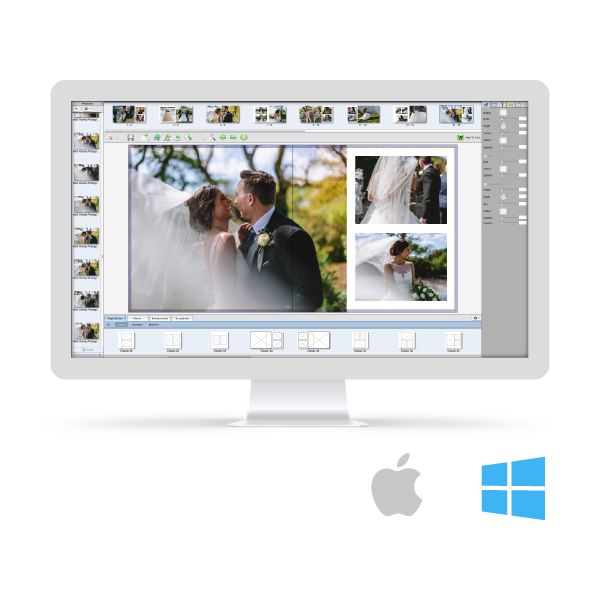 Smaller Duplicates
Order your smaller duplicates at the same time as your Layflat photo album with no need to redesign. These are perfect to add to your package to give out to friends, family and the bridal party. Opt to have a hardback photographic printed duplicate or choose our printed paper for a more cost-effective option. Our printed paper duplicates are available in both hardback and softback format.
Production & Delivery time
The production time for our professional Layflat photo albums is 10 working days. Once your order has been dispatched with our trusted and reliable couriers you will receive a confirmation email and be able to track the parcel from dispatch to delivery. If you are in UK mainland your parcel will be put on a next working day delivery service.
Prices are available for 'PRO' users only. Please register and login to gain access.
---