Coffee Table Photo Book Overview
Our coffee table photo book range is the perfect selection of luxury photo books for professional photographers. Bound with hardback covers in a choice of 30 colours of linen or a full laminated image design, you can choose your paper and create your design in our Simware Software before ordering.
Product Options
Continue to scroll down the page to see the full range of cover & paper options available in this luxury photo book range.
Cover Options
We've got a cover to perfectly match the mood and look of your book!

For more details on embossing and personalisation please continue to scroll through the cover options swatches.
Image Finish Options
Image Finish Options
Landscape
Square
Paper options for Coffee Table Photo Books
Our most premium option in the range, the lay flat photographic paper consists of top quality Fuji photographic film, mounted to heavyweight board to create thick, rigid pages, perfect for panoramic images across double page spreads. Alternatively we offer a lay flat press printed paper, which is thinner, lightweight and more flexible or finally go for our traditional "magazine" style option with the press printed paper.
Standard Press Printed Paper
Using the latest digital press printing technology, this premium magazine style paper bows at the centre seam to create a traditional coffee table photo book feel. With a satin sheen finish on the surface, this is our original press printed paper option and has the ability to include up to 200 pages.

Press printing uses a traditional 4 colour print process to produce a high quality product bound in a hard cover. Given the binding process, up to 10mm of the centre of spreads can be concealed in the bowed centre seam, so please consider this when creating your design.
Fine Art Press Printed Paper
Our stunning fine art press printed paper offers a completely matte surface with a magazine style bow in the centre seam. The paper itself is flexible and you can include up to 200 pages in your coffee table photo book design. Press printing uses a traditional 4 colour print process to produce high quality prints every time.

Due to the traditional binding process of the fine art press printed paper, up to 10mm of the centre spreads can be concealed in the bowed seam, so please remember to consider this when designing your coffee table book.
Lay Flat Press Printed Paper
An excellent combination paper for your middle range packages, this 270gsm matt paper is flexible and printed using a 4 colour digital press and bound in a hard cover. This innovative paper is able to lay flat when opened with the addition of a flexible, clear plastic hinge on the centre of each individual spread.

Given the binding process, we do not advise that any critical image elements such as faces, body parts etc cross over the centre seam as the hinged spine is moveable and adds a slight colouration of up to 10mm down the middle. You can design up to a maximum of 100 pages in this paper for your luxury photo book.
Lustre Photographic Paper
Professional colour paper from the Fuji Crystal Archive range with a semi-matt finish, this paper is coated with a soft, speckled sheen to give a high quality photographic finish with accurate colours throughout your luxury photo book.

This versatile paper remains our original and most popular paper option, as it offers a timeless feel with beautifully detailed, photographic reproductions for each and every image.With minimal image interruption across the centre seam, this paper is ideal for stunning panoramic shots as it lays completely flat when open. Available up to a maximum of 50 pages.
Velvet Photographic Paper
Our crystal archive fuji velvet paper boasts a professional coating with a zero-reflective top layer, creating a stunningly soft and deep-matte effect. With pure whites and a tactile feel to the touch, this popular paper gives a dusky hue to deep blacks, perfect for vintage effect images.

Request a test print in your order comments to see how this paper could enhance your images before we produce the full coffee table photo book. Available up to a maximum of 50 pages.
Free Software Download
Our free downloadable Simware software allows you to have full control when designing your personalised photo products. Your personal copy of the Simware will be saved to your specific laptop or desktop without the need to be connected to the internet so you can work on the go when you need to.
With a simple drag and drop system, our Simware allows you to upload your images and drop them into a huge selection of pre made templates to visualise the final look of your album, photo book or other photographic product.
We've filled our Simware with heaps of useful tools and functions to make designing any product as quick and easy as possible.
Mac & Pc Compatible
1000's of Pre Designed Templates
Create & Save Your Own Templates
Easy Drag & Drop Functionality
Client PDF & JPEG Proofing
Secure Online payments & upload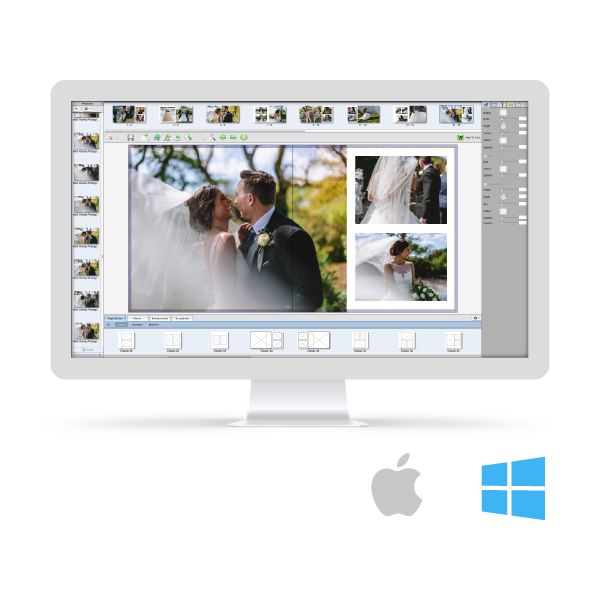 Smaller Duplicates
Smaller duplicates can be ordered at the same time as your coffee table photo books without the need to redesign. Hardback versions in corresponding sizes to your main book will be made with the same paper choice to create mini replicas. Covers can be made in the same image design, or in the matching linen material to create a full set.

Please note that if an embossing cover has been selected for your coffee table photo book, your duplicate will be personalised using a UV print or laser etched method with the same text. The softback duplicates come in sets of either 4 or 8 dependant on the size chosen and for image cover books, the softback will be printed to match.

Softback duplicates paired with an embossed main book in any cover colour will have the cover made in a premium grey uncoated card with the text printed in black on the front.
Production & Delivery time
The production time for our coffee table photo books is 10 working days. Once your order has been dispatched with our trusted and reliable couriers you will be able to track the parcel from dispatch to delivery. If you are in UK mainland your parcel will be put on a next working day delivery service.
Prices are available for 'PRO' users only. Please register and login to gain access.
---