Box Photo Frames Overview
Our deep box photo frames are perfect for making an impact with your photography. With professional, high resolution prints within a bold shadow box frame, your pictures truly take centre stage. Box framed prints are given extra depth and emphasis, providing a beautiful exterior whilst drawing focus towards your favourite images. Designed to give your image presence and depth, the deep box frame lifts your photograph an impressive 50mm from the wall with its deep rebate frame. With 7 colours to choose from and a thin profile to the front to the moulding, your image can take centre stage in any environment. Our box photo frame is highly versatile and the perfect addition to any space and interior style. We offer a range of sizes as standard so you can find the perfect fit for your work.

We offer a selection of seven colours for our box picture frames to complement any colour scheme. This includes a range of 4 wood finishes of black, white, oak and chocolate, as well as a selection of 3 metallic colours with gold, silver and gunmetal to choose from. Whether you're looking to display your professional photography in your studio, add depth and colour to your office or waiting room, or simply bring your happy memories to life within your home, our box framed prints will enhance your images for a powerful impact.
Colour Samples
Our box photo frames are available in a range of colours which can be seen below. With 7 colours to choose from you can be sure to find the perfect fit for your own photos.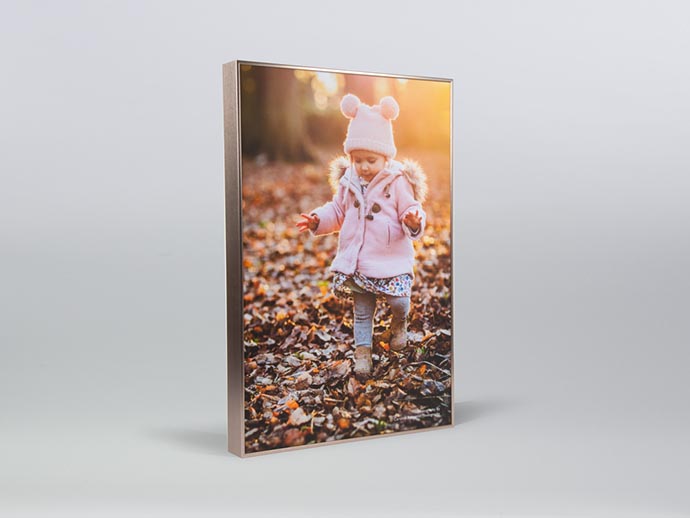 How to hang your Box Photo Frame
We use the highest quality printing technology to provide you with fantastic reproductions of your photographs. Select your size and upload your image to our online designer before choosing your box frame colour at the checkout. Each frame is made completely to order with absolute precision right here in the UK at our dedicated premises in Hertfordshire for the ultimate professional finish.

Our industry-leading large format Epson printers allow us to print your favourite images in the highest quality possible with bright and vibrant colours on our fine art lustre paper. Your inkjet print is then sealed with a satin matt laminate for added protection and a soft surface sheen, creating a flawless edge-to-edge finish.
How to hang your Box Photo Frame
Our framed box photo frames will come with two sturdy steel hangers pre-attached. In addition to this, we make our box photo frames with a hollow reverse, making the finished product incredibly versatile and lightweight. That means you can easily hang and display your masterpiece in pride of place as soon as it arrives.

Smaller sizes will have a single hanger on the reverse at the top of the frame and all larger sizes are provided with two symmetrical hangers instead. If you'd like to use your box picture frame as a free standing desk display, you can request in the special instructions for no hangers to be included instead.
Aesthetic and elegant wall displays
Diverse, light, and easily manoeuvrable, our box photo frames are the perfect professional product to suit any and every environment. We also offer an extensive range of standard sizes, as well as offering custom sizes. So, if you are looking for a panoramic deep box frame to truly make a statement or for a number of small box frame photographs to create a gallery wall with depth, talk to the team today about custom box frames.

Our box frame print sizes start from as small as 5×5", making them the perfect free-standing addition to any desktop, shelf, and mantelpiece in your home or workplace. Our range of bold colours also mean you can find the perfect accompaniment to your photograph, your interior décor, or simply your personal tastes. Our customers love the simple lines and striking impact of our deep box frames and their ability to complement any space.
Order your Box Photo Frames
Order your Box Photo Frames here from the sizes listed below. If you can't see the perfect Box Frame for you, please do get in touch with us as we would be more than happy to check if your size is possible.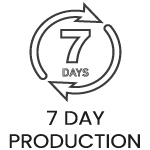 Sizes & Prices of Box Photo Frames
See our size and price guide below. If you have any questions, simply get in touch with our friendly customer support team to see how we can help.
Portrait & Landscape
| | | |
| --- | --- | --- |
| Inches | Size(mm) | Price |
| 10 x 8" | 254 x 203 | £30.00 |
| 12 x 8" | 305 x 203 | £30.00 |
| 12 x 10" | 305 x 254 | £34.00 |
| 16 x 12" | 406 x 305 | £43.00 |
| 18 x 12" | 457 x 305 | £46.00 |
| 20 x 16" | 508 x 406 | £54.00 |
| 24 x 16" | 610 x 406 | £70.00 |
| 24 x 20" | 610 x 506 | £80.00 |
| 30 x 20" | 762 x 508 | £95.00 |
| 30 x 24" | 762 x 610 | £110.00 |
Square
| | | |
| --- | --- | --- |
| Inches | Size(mm) | Price |
| 5 x 5" | 127 x 127 | £24.00 |
| 8 x 8" | 203 x 203 | £30.00 |
| 10 x 10" | 254 x 254 | £30.00 |
| 12 x 12" | 305 x 305 | £36.00 |
| 16 x 16" | 406 x 406 | £54.00 |
| 20 x 20" | 508 x 508 | £70.00 |
| 24 x 24" | 610 x 610 | £90.00 |
Panoramic
| | | |
| --- | --- | --- |
| Inches | Size(mm) | Price |
| 30 x 10" | 762 x 254 | £70.00 |
| 30 x 12" | 762 x 305 | £80.00 |
| 30 x 15" | 762 x 381 | £90.00 |
PRICES ARE EXCLUSIVE OF VAT
---