Metal Prints Overview
Bright, vibrant, and offering stunning print quality, our metal prints are particularly well suited to modernised offices and contemporary homes. If you're a professional photographer looking for wall art for your next showcase, an inventive and memorable gift idea, or if you simply wish to enhance your décor in your home, our metal prints will add character to any space.

Creating a brilliant floating effect, this sleek product design means your image is evenly raised 15mm from the wall by the invisible subframe forming a stunning drop shadow. This is a perfect solution for modern photographers to offer beautifully bespoke wall art, certain to capture attention and wow every client.
Chromaluxe Surface options
All of our aluminium prints are created in collaboration with the world's leading manufacturer of high-definition 1.5mm sublimatable photo panels, ChromaLuxe. ChromaLuxe are known for their modern finishes, producing fantastic displays no matter where you choose to hang your masterpiece.

The aluminium panels in your metal photo prints are incredibly lightweight and durable. We offer ChromaLuxe metal wall pictures in four striking finishes so you can choose the option that's perfect for you. See the finishes below.
All four metal finishes are available in standard and custom sizes from a 12x8" up to a 36x24". For sizes larger than 36x24" up to a 60x40", only the White Gloss Chromaluxe is available as your finish choice. Select your size, upload your image and choose your finish at the checkout. If you're looking for extra impact with a professional frame on your metal print, see our dedicated framed metal photo print page.
Round Metal Photo Prints
No longer constrained to standard square corners, you can order a round metal print instead for a completely circular, modern finish. Make a display with a range of round metal print sizes to make your studio display compelling for clients. These circle metal prints are a new and abstract way to present your images, making your packages memorable and completely personalised.
How to hang your Metal Photo Print
Our products are designed to create a professional display in your studio, home, or workspace quickly, easily and without any fuss. To ensure your wall art is ready to hang, all of our metal photo prints are created with a pre-fitted rear mounted subframe. Creating the ultimate illusion, your custom metal photo print will float 10mm away from the wall for an impressive and minimalist finish.

Metal chromaluxe photo prints are designed to sit parallel to the wall while floating away from the wall surface. All of our custom metal photo prints are finished with wall hanging fixings already in place. Two metal hangers will be pre fitted on the reverse of the subframe, so as soon as it arrives with you, the metal print can be put up in position on your wall.

These hangers are extremely sturdy, designed to hold your metal print in place perfectly, all you need to add are two screws in the wall. Your metal wall art will arrive carefully and precisely packaged in a bespoke white custom presentation box housed inside a brown protective cardboard carton. We use foam corners and polystyrene to ensure that the metal print arrives with you in excellent condition on every order, ready to present straight to your client.
Metal Print Quality
Created using a sublimation process, our metal photo prints offer a completely unique substrate in a choice of four fantastic finishes. Combining premium materials with market leading inks, your image is printed and embedded into the surface of the metal for a seamless edge-to-edge finish with vibrant colours and rich detail. All of our ChromaLuxe metal prints are created using our professional dye-sublimation process, involving a heat transfer of the inks in your printed image directly into the metal surface, making these prints durable, easy to clean and water resistant.

Dye-sublimation is not a photographic process, so metal photo prints will appear slightly different to your image on screen due to the nature of the process and the materials used. Perfect for homes, studios and business environments alike, metal photo prints offer a fantastic modern way to display your favourite images.
We only use high definition 1.5mm metal panels from the world's leading manufacturer, Chromaluxe. For sizes from 12x8" up to 36x24", you can choose from four different finishes to match your personal tastes including white gloss, white matt, metal gloss, or metal matt. For metal print sizes above 36x24", only the white gloss finish is available offering bright colours and excellent surface depth.

To see the full effect of the different metal finishes available, you can order a sample pack in advance before designing your own custom metal print. Our metal sample pack is created using A6 panels of the four available finishes, each printed with a matching sample image so you can compare the effects of the different metals on the details and colour.

Complete with a stand for you to display the finishes in your studio, this set is perfect for choosing your favourite finish, as well as offering variety to your clients.
Order your Metal Prints
Order your metal photo prints here from the sizes listed below. If you require a custom size, we can provide a range of dimensions from 12"x8" up to a maximum of 60" x 40" but if you have any questions about ordering a custom size, please do get in touch with the team as we would be more than happy to check if your size is possible.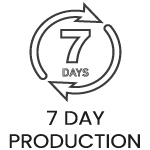 Sizes & Prices of Metal Prints
See our size and price guide below. If you have any questions, simply get in touch with our friendly customer support team to see how we can help.
Portrait & Landscape
| | | |
| --- | --- | --- |
| Inches | Size (mm) | Metal Prints |
| 12 x 8" | 305 x 203 | £37.00 |
| 12 x 10" | 305 x 254 | £40.00 |
| 16 x 12" | 406 x 305 | £55.00 |
| 18 x 12" | 457 x 305 | £60.00 |
| 20 x 16" | 508 x 406 | £75.00 |
| 24 x 16" | 610 x 406 | £95.00 |
| 24 x 20" | 610 x 508 | £120.00 |
| 30 x 20" | 762 x 508 | £132.00 |
| 30 x 24" | 762 x 610 | £175.00 |
| 36 x 24" | 914 x 610 | £185.00 |
| 40 x 30" | 1016 x 762 | £289.00 |
| 60 x 40" | 1524 x 1016 | £519.00 |
Square & Circle
| | | |
| --- | --- | --- |
| Inches | mm | Metal Prints |
| 10 x 10" | 254 x 254 | £37.00 |
| 12 x 12" | 305 x 305 | £47.00 |
| 16 x 16" | 406 x 406 | £70.00 |
| 20 x 20" | 508 x 508 | £95.00 |
| 24 x 24" | 610 x 610 | £140.00 |
| 30 x 30" | 762 x 762 | £225.00 |
| 36 x 36" | 914 x 914 | £299.00 |
| 40 x 40" | 1016 x 1016 | £349.00 |
Panoramic
| | | |
| --- | --- | --- |
| Inches | Size (mm) | Metal Prints |
| 30 x 10" | 762 x 254 | £70.00 |
| 30 x 12" | 762 x 305 | £85.00 |
| 30 x 15" | 762 x 381 | £90 |
| 36 x 12" | 914 x 305 | £100.00 |
| 40 x 20" | 1016 x 508 | £200.00 |
| 50 x 20" | 1270 x 508 | £240.00 |
| 60 x 20" | 1524 x 508 | £280.00 |
PRICES ARE EXCLUSIVE OF VAT
---